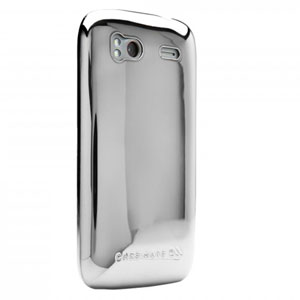 This flashy chrome case for the HTC Sensation is as bling as it gets. Called the Case-Mate Barely There, this case for the unlocked HTC Sensation has the slimmest profile to get you as close to your smartphone as possible. In no way does this mean any sacrifice to protection - a layer of hard plastic and polish protect your device from the rigors of daily use. Precision engineering has made sure that the case hugs the form of the Sensation/ Sensation XE at each and every point such that there is very little change in the profile of the device.
Now if you, like me, are turned of by all things blingy then you just have to check their Black Barely There case for the HTC Sensation. This case makes you device look slimmer than it actually is because of the unique matt black finish while still providing adequate protection from nicks and scratches due to the hard-to-break plastic shell.
If your searching for a case for your girl friends Sensation XE, then the Pink Barely There case for HTC Sensation XE might be just the one you're looking for.