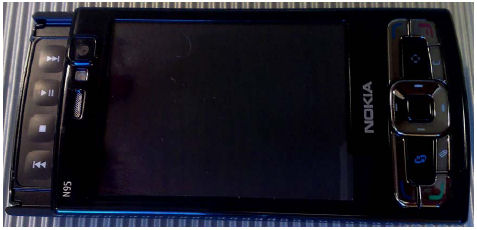 Is it really the Nokia N95 8GB or just a color change on the N95 3G US Edition?? An N95 music edition is seriously going to blow away the happiness of a lot of N95 users - were fed up wih the US edition of the N95 being launched with the same name as it is.
I did expect something like this to happen when they launched the N95 with users manual stating that the technically the N95 would be known as the N95-1. But i didn't expect anything of this magnitude !!
The FCC website (US regulator) currently has some information about the Nokia N95 8GB on its website. Hardware changes include a reworked back section with the removal of the camera lens cover to allow for a bigger battery. The top slide media keys are now slightly raised and the phone itself is black. There are also some interesting hints about the software in the manual with references to N-Gage gaming and the Nokia Music store.
The soft keys have become smaller - god knows why they did that, making keys smaller just increases the difficulty in using the already awkard design of the keys. When i say awkard i don't mean they're awkard to look at but awkard to use. Another thing is that this wasn't done to increase the screen size - it was merely done to include the NOKIA tag beneath the screen.
The black color also looks tacky and cheap. It just doesn't match the phone, and doesn't reach anywhere near the grandeur of the dual tone colors of the Classic N95.
On the software part there seems to be new additons to the phone like the inclusin of the N-Gage Application with which you can test drive N-Gage applications as well as play some of the games when they get released. I'm talking about the new N-gage here!.
There also may not be any MicroSD support fot the phone as it includes Mass Memory support.
The phone is said to be due for release by the 29th of August, so if any plans to buy it please let me know.
courtesy allaboutsymbian.com