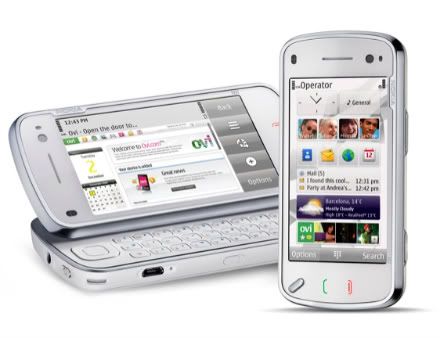 The Nokia N97 is the latest offering flagship model from the Finnish cell phone company, which might use this to get up after the setback which it got from the not so great N96. The N97 comes with a 3.5-inch 640×360 touchscreen display with tactile feedback, 5-megapixel camera with Carl Zeiss glass lens, slide out QWERTY keypad, HSDPA, WiFi, Bluetooth, A-GPS, 32GB internal memory and support for additional memory of 16GB via microSD. This marks the continuing evolution of Nokia's touchscreen phones and the first time an Nseries mobile phone features a QWERTY keypad. While it does lack DVB-H technology that's found in the N96, I'm sure most users wouldn't mind that small sacrificial lamb for the N97's existing feature set. Besides, i don't know if anyone even used it. This is also yet another tactic that Nokia uses to balance it's numerous phones. 

Here's a short promotional video for the N97 to get you even more excited for 2009.
It's expected to begin shipping in the first half of 2009 with a €550 (roughlyP34,500) price tag attached to it excluding tax and subsidies. With its impressive line of features, I'm sure aspiring N96 and 5800 XpressMsuic phone owners will now think twice before making any hasty purchases from now until mid next year.
While there's still no certainty if it will make it to the local market, I'm pretty optimistic that this one won't suffer the same fate as the 6260 slide. Let's just hope that when it does, its price won't even come close to that of the XPERIA X1 so that more of us can get to enjoy this new beauty.