The Nokia N95 which had been my primary phone for the past 3 years has started to give in to the effects of time. As of today it has a changed slider (2008), a display strip swap(2009), a ear piece swap(2009), and 3 fascia changes. The insides resemble a war torn land with a plethora of scratches and stains. Pictures are too filled with gore to be published here comfortably. Yet I still loved the phone..

But yesterday it started giving me button problems and when this problem crops up in the middle of typing a message frustration sets in. And so I decided it was high time to get me a new handset, and thus I enter the market.

My Needs:

Big screen.
Make that a big touch screen.
Atleast a 5 MP camera.
Above average music playback through the 3.5mm jack.
Good text input.
Must fit in my jeans.
Stable OS.
Within 500$
The Primary list:

Motorola DEXT

Samsung B7610 OmniaPRO
Sony Ericsson XPERIA X1
Nokia N900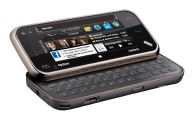 Nokia N97
Pictures Courtesy of GSMArena.